Our technology partners
We know: It is not the latest technology that makes your project successful, but the right technology. Your goals, requirements and resources decide which technological partners we integrate. Trust our experience.
BusinessCode has been working with different technology partners for many years and knows their strengths and weaknesses, so we know what suits you best.
Our business partners
We cultivate exchange, togetherness and appreciate being a member of various networks. We benefit from this to the same extent as our customers.
Our engagement
We are not only engaged in the IT area, but are also active when it comes to sponsoring and charity work, for example in sports, environment or for our region.
Wir unterstützen den regionalen Breiten- und Leistungssport. Gemeinsam mit dem SSF bilden wir ein starkes Team, um ganz vorne mit dabei zu sein!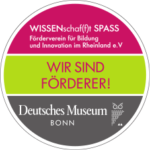 Durch die Mitgliedschaft im Förderverein WISSENschaf(f)t SPASS bringen wir Schülerinnen/Schülern angewandte IT näher. Durch unser Engagement begleiten wir das Deutsche Museum Bonn auf dem Weg in die Digitalisierung!