BusinessCode postpones anniversary celebration
Dear guests,
due to the current situation we have decided to postpone our anniversary celebration. We support the government's measures to stop the spreading of the corona virus. Therefore, the celebration will not take place on 30.03.2020.
We would like to thank you for the numerous congratulations and the many confirmations.
As soon as it is predictable at which point in time the event can take place, we will look forward to celebrating our anniversary with you!
We remain your trustworthy contact for all questions and requirements concerning your IT.
BusinessCode celebrates its 20th anniversary at the Deutsches Museum Bonn on 30 March 2020
20 years of BusinessCode – what better way than to celebrate two decades of innovation and service than with you! Together with you, our partners and business friends, we have developed into an experienced and state-of-the-art service provider with international acclaim for all aspects of IT. Our software solutions are in use worldwide.
For that we say: Thank you! Furthermore, we would like to cordially invite you to celebrate our anniversary with us on the following date and venue:
On 30.03.2020 from 4pm / Key Notes from 6pm (in English)
At Deutsches Museum Bonn, Ahrstraße 7, 53175 Bonn
The journey doesn't end here, however. We would like to extend an invitation to take you on BusinessCode's journey into the future. As we set sail into uncharted seas, we have put together a top-class panel discussing the topic of machine learning. In addition to our in-house experts, selected speakers from Silicon Valley and the German research community will give lectures on the question "How can AI be adapted for your business?
Martin Bernemann, Chief Technology Officer at BusinessCode and the brain behind our BCD suite
Prof. Axel Mosig, Director of the Competence Center Bioinformatics at the Research Center for Protein Diagnostics of Ruhr University Bochum and former founding member of the Max Planck Partner Institute for Computational Biology in Shanghai, China
Dr. Jakob Foerster, PhD in Machine Learning at Oxford University, Research Scientist at Facebook AI Research in Menlo Park (Silicon Valley), Assistant Professor in Toronto starting in autumn 2020
Let us go into the future together, gather inspiration from the lectures and connect with our renowned, international guests! From 8pm on we invite you to networking and a buffet – because it goes without saying that we will also be looking after your culinary well-being on this evening.
We are looking forward to welcome you as our guest. Please let us know by 20.03.2020 whether we may include you in our guest list: anniversary@business-code.de.
Journey to Deutsches Museum Bonn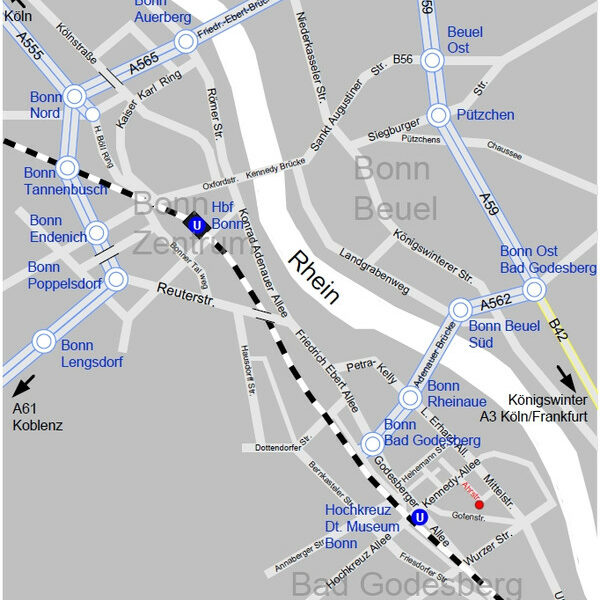 Barrier-free access to the Deutsches Museum Bonn is possible at any time after registration.
Our geographical location:
Tram 16 and 63 to Hochkreuz/Deutsches Museum Bonn
Please calculate ten minutes for the walk from the tram station Hochkreuz/Deutsches Museum Bonn to the museum. Harnesses will guide you along Kennedyallee and Ahrstraße.
By bus
Bus 610 to Danziger Straße/Deutsches Museum Bonn
Bus 611 to Kennedyallee
Bus 631 to Ahrstraße/Deutsches Museum Bonn
Bus 637 to Deutsche Forschungsgemeinschaft
Bus 638 to Deutsche Forschungsgemeinschaft